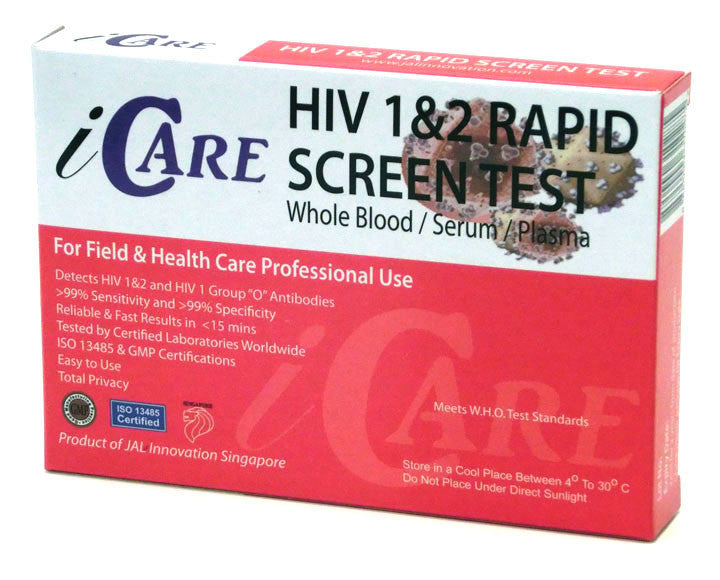 HIV 1&2 Rapid Test Kit
STI Rapid Test Kit for HIV 1&2. 
The human immunodeficiency virus (HIV) causes HIV infection and leads to AIDS (acquired immunodeficiency syndrome). This can result in progressive failure of the immune system and leaves an individual vulnerable to other life-threatening infections. HIV is typically spread from one person to another through sexual contact which includes the exchange of body fluids (semen, vaginal fluid and pre-ejaculate). Unprotected sex both heterosexual and homosexual infects individuals with the virus more than other risk factors such as needle sharing. Early testing using home test kits leads to early detection of HIV and affords those infected with access to the many drug treatments that can fight the virus and attempt to reduce its impact on the immune system. Often infection shows no symptoms and it is estimated that Heterosexuals in Australia on average are diagnosed 4 years after they have become infected. This leads to the risk of them infecting others to be high. Due to the window period between infection and detection, it is recommended that you test 1 month, 2 months and 3 months after your potential HIV infection. It is suggested that you test at several monthly intervals using a home test kit.
Test Now Australia! 
BUY A 2,3 OR 4 HIV STI TEST MULTI-PACK AND SAVE $$$ 
Test easily and privately for HIV
SPECIAL! 2nd,3rd,4th Test Kits only $10 each!
$34.95
$44.95
You Save:
$10.00
---
You may also wish to purchase other STI test kits